Excellent Provider of Medical Care in Delaware
CONVENIENT MEDICAL ATTENTION
Can't get an appointment with your doctor? Come in and we'll see you at a moment's notice. Our on-site lab and x-ray machines offer comprehensive care in one convenient location. You can even check in online before you come in!
GET MORE INFORMATION
WALK-IN CARE
TELEMEDICINE EXPLAINED
A PERSONAL APPROACH
TO VIRTUAL CARE
CONTINUE READING
VIRTUAL VISITS
Too sick to leave the house? Have the flu, a sprain, or an earache? Medical care is at your fingertips even if you don't have time to travel to an appointment. Login and access care in minutes!
GET MORE INFORMATION
WHO WE ARE
Our central focus is healing and caring. This encompasses every aspect of what we do at Ambient Care. Injury and illness do not occur on a schedule. Ambient Care has convenient hours for working adults and busy parents.
TELEMEDICINE EXPLAINED
What is it and how can it help me?
Telemedicine allows you to walk into any of our Express clinics and consult with our physicians remotely while our medical staff assists you. Learn More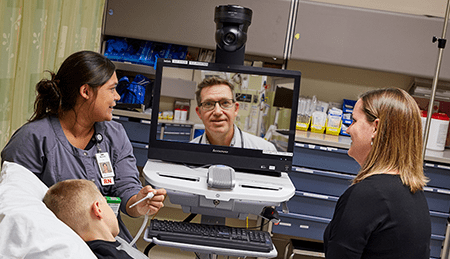 OUR PROVIDERS
Our dynamic team of professional medical and support staff is committed to providing convenient care for you whether at home or in our walk-in clinics.
Need help or have questions?
For non-medical questions only please.